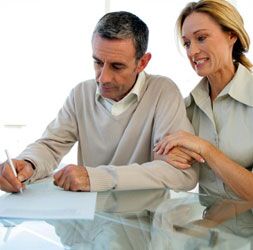 Many people have a negative impression of prenuptial agreements. There is a general thought that people who are getting married should trust each other enough not to need a prenuptial agreement. Contrary to these beliefs, however, preparing a prenuptial agreement prior to marriage is an effective and sound way to protect each spouse's individual interests. Whether you have a prenuptial agreement or not, the divorce rate likely remains the same. Thus, we encourage clients to consider every possible scenario prior to entering into a legally binding marriage.
Let us help you protect yourself from unforeseeable events. Doing so can ensure your financial stability and provide protection for your spouse as well. We are Ronald L. Bell & Associates P.C., a Libertyville family law office representing clients in Lake County and throughout northern Illinois.
The primary function of a premarital agreement is to determine how property will be divided in the event you and your spouse divorce, as well as determine spousal maintenance and other issues. We can help you prepare a prenuptial agreement that will protect your nonmarital property, including homes and other real property, gifts, inheritances and more. We also help clients review agreements prepared by the other party. The most important thing to know about prenuptial agreements is that both parties should consult with their own lawyer.
Lake County Postnuptial Agreement Lawyer Serving All Surrounding Counties
In addition to determining issues prior to getting married, we encourage clients to work together to prepare postnuptial agreements as well. This type of agreement is made after marriage and is a productive way for both parties to agree on their rights and obligations should they divorce. Postnuptial agreements cover many of the same things as prenuptial agreements and can address other issues as well, such as those involving child custody, visitation and child support.
With our assistance, you can identify your needs and goals and put in place a prenuptial or postnuptial agreement that is enforceable and will make things much easier if your marriage ends.
Call for a Consultation Today
Schedule your strategy session with attorney Ronald L. Bell by calling us at 847-495-6000. You can also fill out our online contact form. Offsite, evening and weekend times are available.
Credit cards accepted.