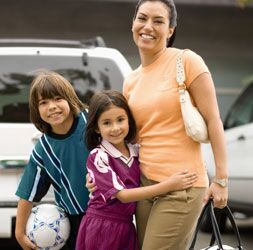 During a divorce or legal separation, payment of child support is one of the most highly contested issues. One parent may worry about not receiving enough child support, while the other may be concerned about overpaying. Ideally, parents will work together to determine issues regarding their children such as child custody and child support. However, working together is not always an option. Whether our clients require skilled negotiation or effective trial advocacy, we are here to represent their interests.
Our family law firm, Ronald L. Bell & Associates P.C., has represented the interests of parents since 1980. We are based in Libertyville, Illinois, and we assist men and women throughout northern Illinois.
Understanding Your Child Support Rights
In any child support matter, it is essential to present an accurate picture to the court to make sure the child support ordered reflects each parent's situation.
Illinois, like most other states, employs child support guidelines to determine monthly child support amounts. Using these guidelines, you may be able to clearly determine what you will pay or receive in child support. Even though Illinois laws are somewhat clearer than in other states, there are many situations in which the guidelines do not truly reflect each parent's individual situation.
The guidelines do not always create an equitable child support amount. Illinois requires a minimum of 20 percent for each child. We have seen situations where that amount was either too low or too high. To obtain a child support result that is under 20 percent, a court has to make specific findings. Clients can always pay above the 20 percent if they choose.
Remember, every situation is different. There may be special circumstances that would warrant a lower or higher amount of child support, such as:
A parent who makes too much money
A parent who does not make enough money
Learning disabilities
Medical issues
Other special needs
Lake County Child Support Payment Lawyer Serving All Surrounding Counties
The key to being successful in a child support matter is creativity. At our firm, we think outside the box. We have helped clients by coming up with carefully tailored solutions to truly meet their needs.
Call Today for Help
Schedule your strategy session with attorney Ronald L. Bell by calling us at 847-495-6000. You can also fill out our online contact form. Offsite, evening and weekend times are available.
Credit cards accepted.
Sharon
I had some complications with my ex-husband and child support. After dealing with another attorney, I was reluctant to hire one again. Mr. Bell and Doreen were great and put me at ease during a very difficult time. Mr. Bell is knowledgeable and fair, I was only charged for work done. My only regret was I didn't find them sooner.
about
Child Support Complications
Date published: June 4, 2017
Overall rating:
★★★★★
based on
1
review