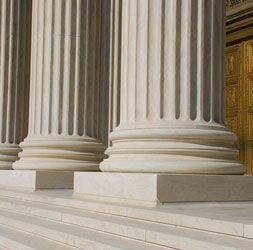 There are many qualities that successful and talented lawyers share. Above all, however, experience is the most valuable to clients. Libertyville attorney Ronald L. Bell has represented a wide variety of clients since 1980. His vast experience includes work before local trial courts, appellate courts, the Illinois Supreme Court and federal courts. He has litigated cases worth millions of dollars and everything in between.
Ronald Bell's background includes private practice, in-house counsel and government work, and he has represented individuals, companies, state entities and even judges.
He brings the network of his resources and his knowledge to bear directly on the cases he now handles. Mr. Bell is respected and known among judges in his area and has played a leading role in developments in implied consent, sentencing and search and seizure laws.
Visit the attorney profile link below to learn more about Mr. Bell.
Attorney Ronald L. Bell has:
Extensive experience: Attorney Bell has held former positions such as the Assistant Illinois Attorney General and Chief Corporate Counsel to a $250 million dollar company
Wide litigation background: Ronald Bell has argued and/or presented cases before the United States Supreme Court, Illinois Supreme Court, 7
th Circuit Court of Appeals and every Illinois appellate court.
Top academic credentials: He was the top student in his law school class at the age of 23, a former editor of the law review and graduated college at the age of 20.
Schedule your strategy session by calling us at 847-495-6000. You can also fill out our
online contact form. Offsite, evening and weekend times are available.
Credit cards accepted.